The rainy month of Bhadon - the month when the Lord Krishna was born, is a time of colourful celebrations. The famous Braj Parikrama - a pilgrimage of all the places in Braj that are associated with Shri Krishna, is undertaken. Traditionally, the Chaurasi kos (84 kos) pilgrimage of Braj Mandal, with its 12 vanas (forests), 24 upvanas (groves), sacred hill Govardhan, divine River Yamuna and numerous holy spots along its banks, is undertaken annually by lakhs of devotees from all over the country.

The yatra extends to Kotban to the north of Mathura, to Nandgaon, Barsana and the Goverdhan Hill to the west and south-west of the city and to the banks of the Yamuna to the east, where the Baldeo Temple is located. Colourful melas and performances of the Raaslila (a depiction of the exploits of Shri Krishna) are special to this festive period.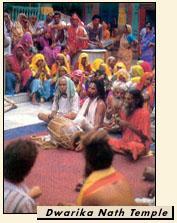 The most celebrated of Shri Krishna's abodes, Gokul lies to the west of Sadabad, 1.6 km from Mahavan and 15 km south-east of Mathura, on the Mathura - Etah metalled road. It was here that Lord Krishna was brought up in secrecy by Yeshoda, in the pastoral beauty of this village on the banks of the Yamuna.

Gokul attained importance during the time of Vallabhacharya (1479-1531) when it became a major centre of the Bhakti cult. The three oldest temples in the place are those dedicated to Gokulnath, Madan Mohan and Vithalnath, said to have been built around 1511. The other temples include those of Dwarika Nath and Balkrishna and the shrines which were built in the honour of Lord Mahadeo in 1602 by Raja Vijai Singh of Jodhpur.

The celebration of Janmashtami in August is unparalleled for its gaiety and melas are a constant attraction here. Other such festivities celebrated with traditional fervour include the Janmotsav in Bhadaon, the Annakut Festival and the Trinavat Mela held on the fourth day of the dark half of Kartik.
Important sites worth visiting in Gokul include the Gokulnath Temple, Raja Thakur Temple, Gopal Lalji Temple and the Morwala Temple.

Where to stay
Tourist Bungalow, Gokul Gaon.



Around 18 km from Mathura, lying on the left bank of the River Yamuna, is the large shrine of Mathuranath. A brick and plaster edifice built in the Buddhist style, it is famed for its Chaurasi Khambha (eighty four pillars). The palace of Rohini, the mother of Baldeo is now the Chathi - Palana Temple. Other important shrines include, the Shyamlalji Temple, the Yogmaya Temple, Tranairatri Temple and the Mahamall Raiji's palace.