The rich treasure of antiquarian values unearthed by Cunnigham, Growse, Fuhrer and others formed the nucleus of this museum. The museum was founded by the then collector of the district Mathura Mr. F. S. Growse in the year 1874. The collections were shifted to the present building in the year 1930 from old but very beautifully carved imposing buff stone building.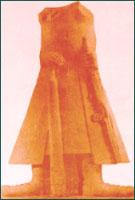 Regional in character its scope was limited primarily to the archeological finds from Mathura and adjoining area, the vast collection includes stone sculptures, basreliefs, architecural fragments and inscriptions etc. various faiths and creeds. Besides a good number of coins, there are thousands of terracottas, inscribed bricks, pottery pieces, clay seals, bronze objects and paintings etc. mostly hailing from Mathura region.

The museum has the richest and by far the most important collection of Mathura School of Sculptures of c. 3rd cent. B.C. to c. 12th cent. A. D. which attained the pinnacle of glory during the reign of Great Kushan and Gupta Emperors. With the most impressive quantum of plastic forms with vast and varied meaning on display, the museum provides perhaps the best material available for the study of Indian Art and Iconography. Probably Museum can boast of a better and a more varied collection of archeological material from one single region. An interested visitor could make a profitable study of he specimens on show to which may be added ancient forms of drapery, Ornamentation and hairdressing on figures of men and women and a host of other article of domestic or special use that have incidently come to be portrayed.


| | |
| --- | --- |
| | |
Holdings as on March 31, 1998

Stone Sculptures

5005

Terracottas

2780

Bronze objects

349

Clay pottery

260

Paintings

414

Miscellaneous

1280

Collection from Sonkh

12000

Coins

Gold
Silver
Copper

178
5440
15481

Ornaments

32

Chronology

Buddha

563 B.C. to 483 B.C.

Mahavira

599 B.C. to 527 B.C.

Maurya

325 B.C. to 184 B.C.

Sunga

184 B.C. to 72 B.C.

Kshaharata Satraps

C. 100 to 57 B.C.

Revival of the Sungas

57 B.C. to C. 20 B.C.

Kushanas

C. Ist. A.D. to 300 A.D.

Guptas

320 A.D. to 600 A.D.

Early Mediaval

C. 600 A.D. to 900 A.D.

Late Mediaval

C. 900 A.D. to l200 A.D.